Self care forum
We would like to provide you with as much information and assistance as possible in order to self-care certain conditions yourself.
A self-care forum was established in 2011 to "further the reach of self-care and embed it into everyday life". More information >>
Understanding your symptoms
A runny or blocked nose, sore throat, sinus pain, cough and earache are all symptoms of an upper respiratory tract infection. This is most likely to be caused by coming in to contact with a virus.
Your immune system can respond to an infection.
Antibiotics are not recommended for most upper respiratory tract infections.
You may ask yourself "how long until I feel better"? It is normal for upper respiratory tract infections to take a little while to clear up.
Earache - usually lasts for 4 days.
Sore throat - usually lasts up to 1 week.
Common cold - usually lasts 7-10 days.
Flu - usually lasts up to 2 weeks.
Runny nose/nasal congestion - Usually lasts 1-2 weeks.
Sinusitis - Usually lasts 2-3 weeks.
Dry/tickly cough - Lasts up to 3 weeks.
If you have any of the above symptoms, drink plenty of fluids and rest. Your local pharmacist may also be able to offer you advice on symptom relief.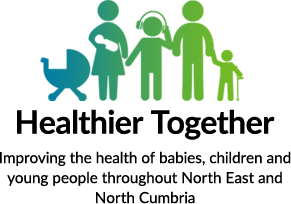 ---
Healthier Together is a locally developed NHS resource, providing consistent, accurate healthcare advice for parents and carers all in one place on a regional website and companion mobile app. Healthier Together uses a simple 'traffic light' system based on the symptoms of common childhood illnesses and other conditions, and advises where and how to seek help if required. Please follow the link to find out more www.nenc-healthiertogether.nhs.uk