Patient Transport Service booking service
The North East Ambulance Service (NEAS) runs the telephone booking service for the Patient Transport Service for patients at this surgery.
To make or amend a booking with the Patient Transport Service (PTS) please call 0191 215 1515. Bookings can be made Monday to Friday, from 8am-6pm.
If you need to cancel a booking for the next working day call 0300 111 0247. If the cancellation is for a booking after the next working day, please call the 0191 215 1515 number.
The PTS is run by the North East Ambulance Service and provides pre-planned non-emergency transport for patients who have a medical condition that would prevent them from travelling to a treatment centre by any other means, or who require the skills of an ambulance care assistant during the journey.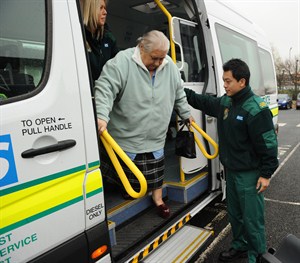 Other services
The Trust also has a number of options to support people with specific communication needs to access services, including a text relay and British Sign Language relay service for deaf and hearing-impaired people. For more information patients should search for 'text relay' on their website: www.neas.nhs.uk or to tailor the site to a patient's specific needs they should click on the 'accessibility' button at the top of the main page.
Try the NHS App
If you're a patient at our practice you can now use the new NHS App, a simple and secure way to access a range of NHS services on your smartphone or tablet.
You can use the NHS App to check your symptoms, get instant advice, book appointments, order repeat prescriptions, view your GP medical record and more. You can also use the NHS App to demonstrate your COVID vaccine status.
For more information go to www.nhs.uk/nhsapp